Quick Navigation
Gas Boiler Replacement Cost – When you are looking to replace your old gas boiler, the cost of gas boiler installation can be a significant consideration. However, many factors go into determining the price, such as what type of gas boiler you want, how large your house is, and what type of heating system you currently have.
A gas boiler can be installed as the basis of a new heating system or may need to be installed to replace an older boiler. Whatever your requirements, the team at NRM Plumbing and Heating will be able to find a solution that's perfect for your needs – and your pocket.

Why you should replace your gas boiler with a new one
While your current gas boiler may not be causing too many problems, there are many benefits to replacing your old gas boiler, especially if it is quite old. These benefits include:
Improved efficiency – Newer boilers use up to 30% less energy than older models. This saving can have a significant impact on the cost of running your heating system over time.
Increased safety and reliability – Carbon monoxide leaks become more common as boilers get older. A new boiler will include advanced features that help to prevent such issues and will be more reliable than older boilers due to less wear and tear on the component parts.
Peace of mind – New boilers come with warranties which can be seven years or longer. These warranties can give you peace of mind that if anything goes wrong with the boiler during this time, it will be repaired or replaced at no cost to you.
Lower emissions – Older boilers are not as efficient and so emit more greenhouse gases than new models, which means they have a more significant environmental impact on our planet.
Reduced noise level – Newer boilers are much quieter than older boilers.
All in all, choosing to install a new boiler can provide multiple benefits. Remember that the cost of gas boiler installation is offset against the savings you will make on your energy bills – modern boilers cost a lot less to run than old boilers.
Gas Boiler Replacement Cost – How much is a new gas boiler Ireland?
The cost of gas boiler installation in Ireland will vary dependent on the size and type of boiler you need. Typically, boiler prices start at around €700, but that's only for the boiler itself, not installation.
One of the most common options for modern homes is a combi boiler that will heat water on demand, but other houses may have hot water cylinders and system boilers.
Some crucial factors in choosing the right boiler are the size of your home and the number of people in it. You'll need to ensure it is powerful enough to heat water to be pumped around your radiators, so the more radiators you have, the higher capacity boiler you'll need.
Similarly, if it's just one or two people living in the home, their demand for hot water may be minimal. However, if it's an extended family with several children, more water may be needed, and often from several taps at once.

Gas Boiler Replacement Cost – How much does a plumber charge to install a boiler?
A popular question is how much does a plumber cost? With the cost of Gas Boiler Installation, there is no fixed price for installing a boiler as this will also depend on the exact requirements. For example, if you want to replace an old boiler with a new gas-fired condensing unit with heat recovery but don't have the right pipes for the installation, your plumber will need to work around the rooms in your property in order to install and position them correctly. This will require more labour than simply installing a direct replacement boiler that already has all the pipework in place.
Your plumber will carefully evaluate the work needed to install a new boiler, and the price will reflect the amount of work and extra materials required. With reputable plumbers like NRM, you can be confident that this will be a fair reflection of the true costs involved in installing a new gas boiler.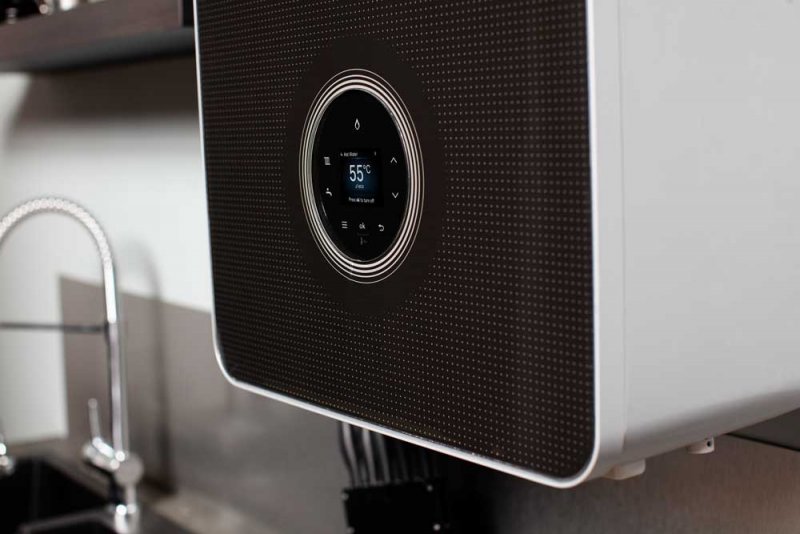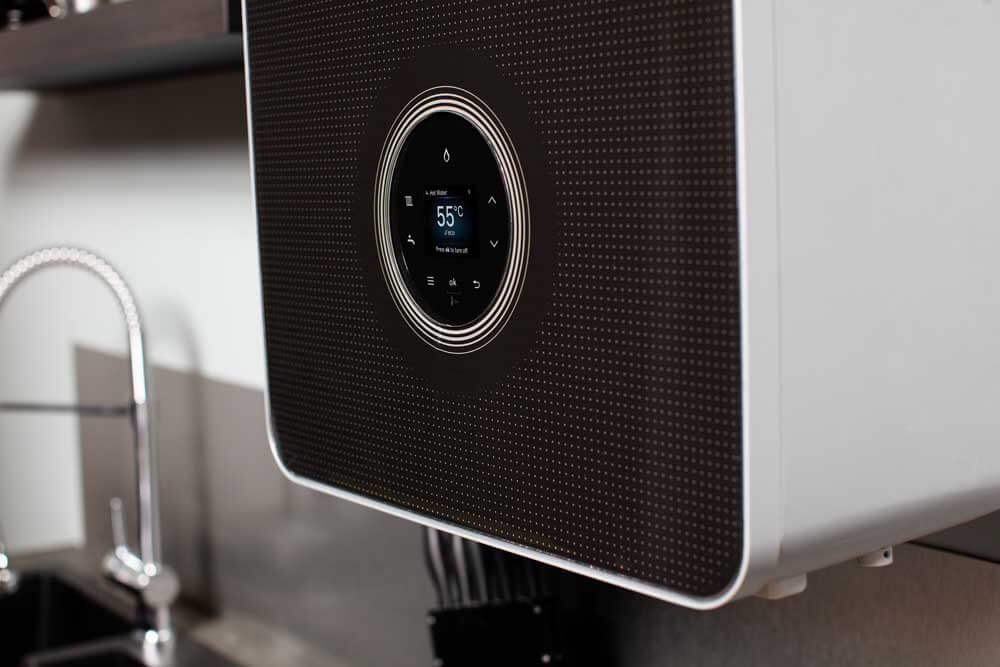 Gas Boiler Replacement Cost –
How much does it cost for a new boiler and installation?
As you are now aware, the cost of gas boiler installation will vary depending on the complexity, size, make and model. However, you can get a quote from NRM Plumbing Heating and Gas Boiler Replacement for an accurate price that includes everything that is needed to install your new boiler with no hidden extras.
For a standard installation, prices start from €2600. The final price includes the labour required along with all materials such as pipes, valves and insulation materials as required by law.

How long will a new boiler last?
A new boiler will usually last upwards of ten years if it is well maintained. The better it is looked after, the longer it lasts! It is recommended that you service your boiler regularly to ensure that it remains in tip-top condition.
With warranties of 7 years or longer, you can be sure that the manufacturer is confident of the quality and abilities of the boilers they make, so you can be too. In addition, any repairs that are required during this warranty period will be covered by the manufacturer at no extra cost to you.
A new gas boiler installation may seem to be quite expensive. Still, with high quality and long-lasting boilers, you won't need another one anytime soon – you're making a solid investment in your future and the happiness of everyone who lives in your home.
How do I get a new boiler installed?
In the first instance, contact NRM. We'll visit your home and provide you with our recommendations and a price for completing the work.
We can advise on what type of gas boiler would suit your needs best based on factors like size or budget and Gas Boiler Finance options if required. Then, if you're happy to go ahead, we'll schedule an appropriate time to start the work, and you'll have your new gas boiler installed quickly and professionally.
Get in touch today to find out more about the cost of gas boiler installation and how we could help you save money now while heating up water effectively in the future!
Maintaining the efficiency of your heating system is essential as it helps to save money in the long term. Flushing radiators is one way to maintain efficiency, but what exactly is a power flush, and how much does it cost? Read our latest Blog Post for full details.